Our Story

The organization was established as a sole proprietorship in Tabaco, Albay in the 1940s by its founder, Mr. Lim Cheng Bee, for the purpose of maximizing the abundant supply of abaca and copra in the Bicol Region. For two (2) decades, the company secured its presence in the trading of abaca and copra with local suppliers and buyers.
In the 1960s, Mr. Lim was joined by colleagues and business partners, and the company was subsequently incorporated as Ching Bee Trading Corporation. In 1967, the company started exporting abaca to Japan and the United States of America (USA). Later on it also tapped into the European market. Today, Ching Bee is known as the biggest trader of abaca in the Philippines and in the world.
Ching Bee primarily serves the fiber needs of its affiliate company, Specialty Pulp Manufacturing, Inc. (SPMI), of which Ching Bee holds majority ownership. SPMI exports abaca pulp mostly to Europe, Japan, and the USA. Ching Bee also maintains holdings in companies engaged in the manufacture of coconut and vegetable oil and desiccated coconut.
To date, the second and third generations of Lim family members are currently involved in the companies belonging to the Ching Bee Group.
Geographic Expansion
To meet the demand for abaca, Ching Bee expanded its operations and established buying stations or branches in strategic locations in the country. It currently has branches in Tabaco City, Albay in Luzon; Baybay City, Leyte in Visayas; and Davao City in Mindanao.
---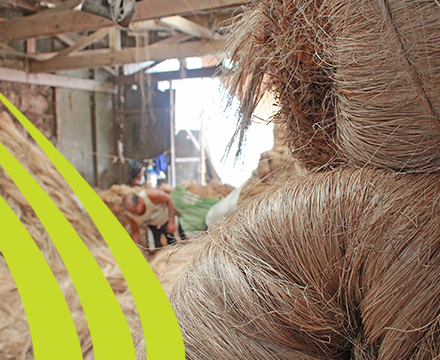 Our Vision
Ching Bee Trading Corporation was established to support its stakeholders to sustain its industry leadership in the trading of abaca and copra in the Philippines and in the world.
Our Mission
To attain its vision, Ching Bee shall:
a. mainstream abaca and copra as sustainable livelihood sources for its suppliers;
b. use appropriate technology to maximize production;
c. continuously improve the efficiency and responsiveness of its systems and processes; and
d. promote employee well-being.
Our Core Values
Integrity. We consistently honor our commitments to keep our stakeholders' trust, confidence, and respect.
Customer Focus. We are sensitive to the needs of our internal and external customers and stakeholders at all times by providing consistently good quality products and services on time.
Loyalty (Commitment and Passion). We protect the interests of our organization and its business partners, set aside personal interests, demonstrate honesty and fairness in all undertakings, and exhibit diligence and passion in doing our work.
Teamwork. We work together as a team in achieving success for our employees, our company, and society at large, recognize individual differences and utilize diversity among the group to achieve synergy, personally commit to beneficial courses of action, and collaborate with each other to achieve our goals.
Innovation and Continuous Improvement. We explore new ways of doing things, embrace change, and capitalize on every opportunity for continuous improvement. We are committed to giving our best by being proactive and by continuously learning in order to achieve personal excellence.